Pressure Washing
---
Our residential pressure washing technology we use in Orange county and all of Southern California can clean your home's the walls and eves, garden furniture, and the flat concrete areas including driveways, pool area, and walkways.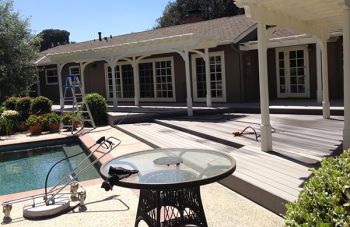 House Pressure Washing
Pressure washing your home washes away dirt and mud, reviving the color of your home and making you proud of your hard earned home. Pressure washing your home adds up to 5 years onto the life of your current paint job. Many people have their house pressure washed before a paint job only to find that they do not need to paint after all.
Oil Stain & Spot Removal
Our Bio Clean Technology leaves oil-eating bacteria on the concrete. Even after we leave, the bacteria continues to eat the oil that has seeped deep into the concrete.
Wooden Fences/Decks
Fences and decks over 50 years old can be cleaned back to the original color with our pressure washing system.